上記の広告は1ヶ月以上更新のないブログに表示されています。
新しい記事を書く事で広告が消せます。
 金閣寺と竜安寺の枯山水のHOLGAの写真。
金閣寺も修学旅行以来久しぶり。やはりいいものです。庭は銀閣寺のほうが綺麗ですが。銀閣寺は本堂が改修中でした。残念です。
The Golden Pavilion-Rokuonji Temple
1.Hstory
Kinkaku(Golden Pavilion) is a popular name for one of the main buildings osf this temple, which is properly called Rokuonji Temple. In the 1220's it was the comfortable villa of Kintsune Saionji.
Yoshimitsu, the 3rd Shogun of Ashikaga, abdicated the throne in 1394. After three years, he began to build Kitayamaden and he made a special effort to make it a breath-taking site. He indulged in his peaceful life in this serene setting. After Yoshimitu's death, Kitayamaden was made into a Zen temple in accordance with his will. All the buildings of those days came to ruin except Kinkaku. The garden, however, remains as it was in former days and can be enjoyed as it was hundreds of years ago. Rokuonji Temple was inscribed as World Cultural Heritage in 1994.
2.Building
Kinkaku was formally called Shariden. The elegant, harmonious building consists of three of architecture. The 1st floor is Shinden-zukuri, the palace style. It is named Ho-sui-in. The 2nd floor is Buke-zukuri, the style of the samurai house and is called Cho-on-do. The 3rd floor is Karayo style or Zen temple style. It is called Kukkyo-cho. Both the 2nd and 3rd floors are covered with gold-leaf on Japanese lacquer. The roof, upon which the Chinese phoenix settles, is thatched with shingles.
Recently, the coating of Japanese lacquer was found a little decayed and a new coating as well as gilding with gold-leaf, much thicker than original ones, was given to the building and was completed in 1987. Furthermore, the beautiful painting on the celling and the statue of Yoshimitsu were restored, with utmost care, to their original splendor. Then the restoring of its roof was performed in the spring of 2003.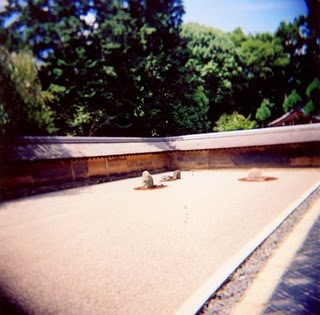 竜安寺の枯山水もHOLGAだとぼやけてよくわかりませんね。
Ryoanji Temple
A simple rock garden, consisting only of whitesand and fifteen rocks, laid out at the end of the 15th centurt, is acknowledged to be one of the masterpieces of Japanese culture. Its simple beauty will inspirephilosophical meditation.
The Rock Garden
The simple yet remarkable garden measures only twenty-five meters from east to west and ten meters from south to north. The rectangular Zen garden is completely different from the gorgeous garden of court nobles constructed in the Middle Age. No trees are to be seen; only fifteen rocks and white gravel are used in the garden. It is up to each visitor to find out for himself what this unique garden signifies. The longer you gaze at it, the more varied your imagination becomes. This rock garden surrounded by low earthen walls may be thought of as the quintessence of Zen art.
The walls are made by clay boiled in oil. As time went by, the peculiar design was made of itself by the oil that seeped out.
This garden of worldwide fame is said to have been laid out by Saomi, a painter and gardener who died in 1525.
スポンサーサイト